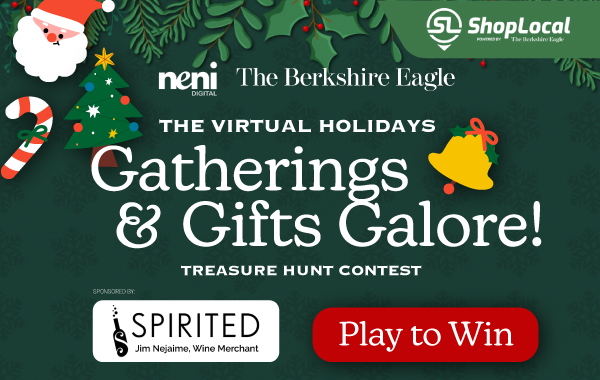 COMPLETE RULES
CONTEST GUIDELINES:
Contest Sponsor: The Berkshire Eagle: 75 S Church Street, Pittsfield, MA 01201
Contest Name: Virtual Holidays Contest.
Contest Dates: November 23, 2021 through January 7, 2022
Categories: Any submission that includes any form of cannabis are not eligible for entry.
Entries

: Electronic entries will be accepted online after 12:01 11/23/2021 and before 23:59 12/27/2021 OR as published in-paper & digitally. Dates are subject to change. Electronic entries are accepted via

www.berkshireeagle.com

using the online submission form.

Contest entries may not be submitted by anyone under the age of 21 years.

Entries will not be accepted unless submitted via the official contest channel. Entries not submitted through the proper channel will be deleted.

Entries will be judged by

www.berkshireeagle.com

. All decisions are final.

www.berkshireeagle.com

reserves the right to disqualify any entry that is deemed inappropriate or does not conform to stated contest rules.

This contest game challenges a reader to find hidden objects
within the website.
Submissions will not be accepted once the deadline lapses.
Your entry submission constitutes your consent to participate in this contest and for the Sponsors to obtain, use and transfer your name and email address and other information collected. Entries may be showcased in The Berkshire Eagle or any of its related publications whether in print, digital or social, without financial consideration.
The Berkshire Eagle is not responsible for lost, incomplete, illegible, late or any error, omission, interruption, defect or delay in transmission, electronic, technical or otherwise.
Winner Selection: The Berkshire Eagle will notify the winners by email within seven days of the end of the contest. Winners have three business days to respond, or an alternate will be selected. Notification will occur via email.
Prize winners will be selected from all registrants. All winner selections are provided by the vendor, Wehaa, who operates a software program for contests. Wehaa is not owned by The Berkshire Eagle or any of their products or publications. To enter this contest, entrants must be 21 years of age. There is no purchase necessary to win.
This program is NOT luck-based, NOT chance-based, and NOT based on a random drawing. The contest is NOT a sweepstakes, NOT a lottery, NOT tobacco-related, and NOT gambling.
The list of entries finding hidden objects within ads from participating advertisers is final & correct answers are determined at the sole and absolute discretion of Wehaa. Prizes will be awarded by The Berkshire Eagle.
No purchase necessary to participate.
Prizes:
The total number of prizes is contingent on the total number of participating businesses. Up to $300 will be awarded paid for by advertisers participating in the online contest.
Acceptance of prize constitutes permission to use winners' names, for the purpose of advertising and promotion without additional compensation, unless prohibited by law.
All winners are responsible for taxes as required by local, state, and federal regulations. Winners must be willing to sign any legal or tax-related documents required by Sponsors or deemed necessary by the State of Massachusetts.
Eligibility:
The contest is governed by Massachusetts law.
The contest is open to MA legal residents, 21 or older, located within the delivery markets of The Berkshire Eagle. Delivery markets are defined by The Berkshire Eagle Circulation departments.
Contest NOT open to legal residents of NY, RI, ME, CT or where contests are prohibited.
Employees of NENI, and their respective affiliates, subsidiaries, directors, officers and agents, and their immediate family or those living in the same household, are ineligible to enter. Employees of WEHAA, and their respective affiliates, subsidiaries, directors, officers and agents, and their immediate family or those living in the same household are also ineligible.
General Conditions:
For the names of winners, send a stamped, self-addressed envelope after January 7, 2022 to: " The ShopLocal Contest", c/o The Berkshire Eagle, Attn: Winners List, 75 S Church Street, Pittsfield, MA 01201. Requests received without a self-addressed, stamped envelope will not be completed.
The Sponsors reserve the right to cancel this contest at any time without obligation or written notice. Sponsors reserve the right to change dates based on local, state and federal regulations providing guidance during the Covid-19 Pandemic.
All entrants agree to be bound by these official rules.
All images shown are conceptual representations, details are subject to change. NENI, The Berkshire Eagle , NENI Digital and related products, logos and names are the property of NENI and may not be used, in any form, without the written consent of NENI's Board of Directors. All rights reserved.